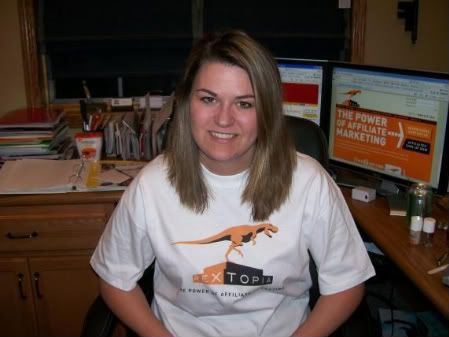 The great gals over at Rextopia.com sent me today's featured t-shirt. It goes great with the flannel pajama pants I'm wearing with it (I told my inhouse photographer, aka my daughter, to not capture those).  I really love the new idea of Hanes tagless shirts (even Victoria Secret's bras and panties are following suit).  Oh, and I'm sitting in my new office chair.
Ok, so my mind seems a bit flighty today – probably 'cuz I'm leaving for Affiliate Summit in Viva Las Vegas tomorrow!!  I've been frantically writing up blog posts for several other blogs to publish while I'm gone.  Gotta love that it looks like I'm still working when I'm partying, I mean networking.
I hope to party network with the fine folks from Rextopia.com – they have some impressive campaigns and dedicated affiliate managers willing to help you succeed.  Check 'em out.  And if you'll be in Vegas and want to hook up, contact me!