Disclosure: This post may contain affiliate links, meaning we get a commission if you decide to make a purchase through our links, at no cost to you. Please read our disclosure for more info.
Last Updated on March 25, 2019 by Work In My Pajamas
Many people are learning the value of working side hustles from home. This is a great way to generate extra income.
Have you been looking for something you can do from home to increase cash flow? If so, we are here to help.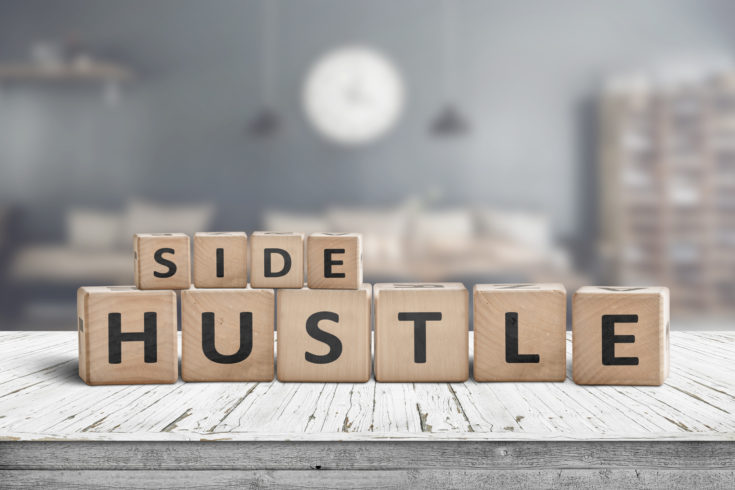 This article is packed with good side business ideas you can start using today. Let's take a look at a few that might be an ideal fit for your lifestyle.
1. Become an Uber or Lyft Driver
Over the last few years, many people have started making increasing their income driving for Uber and Lyft. Signing up is easy and you get to work the hours that are convenient for you.
Being a rideshare driver is a great way for anyone who loves a flexible schedule, wants to be their own boss, and totally digs the freedom of not being stuck behind a desk. It's also ideal for socializing.
Many people have even turned this side hustle into a full-time gig. After all, customers love the convenience and low cost, so it's easy to keep busy, especially if you live in an urban area.
2. Rent Your Spare Bedroom on Airbnb
Here is another great side hustle made possible by the Internet. Do you have spare bedrooms in your home? This is your chance to turn your spare space into easy cash.
Travelers love to save money any way they can, and Airbnb often provides much better value at a lower cost. In fact, this is another side hustle that many people have turned into their main income source.
Whether you live in a house in the country or a high-rise apartment in the city, Airbnb is the perfect way to make side money while also meeting interesting people.
3. Become a Skype Tutor
The Internet has truly revolutionized every aspect of life. It even makes communicating with anyone anywhere in the world a total breeze.
This includes conducting tutoring sessions right at your computer. This way neither student nor tutor has to leave the comfort and safety of your home.
Skype tutoring is great because it saves tons of travel time, allowing you to book more tutoring sessions each day. That's money in the bank!
4. Publish eBooks
Back in the old days, you could spend years writing the Great American Novel, with no hope of ever seeing it published. You'd be forced to stick it in your desk drawer where it would gather dust forever.
Fortunately, those days are over!
The creation of self-publishing has made it possible for anyone with the talent and ambition to write books to make money selling them. Some people have even gone on to be bestsellers and make millions!
Major booksellers like Amazon and Barnes & Noble offer easy-to-use online platforms, allowing writers to upload their books to be sold to anyone with a mobile device.
All you have to do is write the book, get it professionally edited, then upload it to the online bookstore so that readers can find it. You could literally start making money overnight!
5. Become a Dog Walker
Do you love dogs?
This is a side hustle that allows you to indulge your love of dogs and get some fresh air while raking in those sweet Benjamins!
After all, every dog needs to be walked, yet dog owners often have busy lives and don't want their furry friends to be neglected while they're away at work.
Walk one at a time or walk a bunch, it's up to you!
6. Make a YouTube Channel
Believe it or not, there's a lot of money to be made on YouTube. Have you ever been curious how to style your hair a certain way, or how to fix a clogged sink drain? You can always find the answers on YouTube.
Perhaps you want to review movies, offer fashion advice, or simply show the world how fabulous you are. No matter what you have to offer, YouTube provides a platform for transforming your greatest talents into cold hard cash.
7. Become a Personal Trainer
If you're in great shape and have the skills and desire to help others embrace fitness in their own lives, perhaps you have what it takes to be a personal trainer.
Many people hire personal trainers so that they have to be accountable to show up for their workout and stick to it even when they are tired or simply don't feel like doing the hard work it takes to get toned.
Personal trainers often make good money, set their own schedules, and get to enjoy the satisfaction of helping people live their best lives!
Make your home workspace even better with these accessories.
8. Clean Houses
This one might not sound glamorous, yet it fills a need and offers the chance to make some serious money on the side. Plus, you don't need any special skills or training. All you really need is a solid work ethic and the desire to make money.
9. Sell Stuff of Craigslist and eBay
Every day more and more people are learning to use Craigslist and eBay as a side hustle for making money. Go to garage sales and flea markets, find stuff you can resale, and then post them in online auctions or online marketplaces.
10. Learn to Manage Social Media for Businesses in Your Area
Believe it or not, many small businesses still haven't come to understand the value of social media. You can take advantage of this by offering your expertise. Manage their Instagram and Twitter accounts so that they don't have to. It's a win-win for everyone. Plus you can make side cash by doing what you already love to do!
Making Money with Side Hustles from Home
There has never been a better time to make extra money when you need it. Having side hustles from home gives you the freedom to make your own schedule, do things you enjoy, all while padding your pocketbook.
Get creative, bank some cash, and have fun doing it!
Click here to learn how to make money mystery shopping.