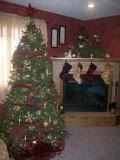 Last weekend, my house was featured on our city's Holiday Parade of Homes, and I overheard, "How does a single mom of four afford this house?"  I swear half the town thinks I sell crap on eBay, and the other half thinks I make porn in my basement.
I sometimes try to explain affiliate marketing and how my main site is an online shopping mall, but I usually have no patience.  If they persist on more info so they can "do what I do", I tell them I was lucky to start ShoppingBookmarks.com a decade ago when I only had like 30 competitors (actually they were more like friends, and still are).  Now I probably have 30,000 competitors (and parasites* are not my friends), but I still have my loyal visitors from years past.
So the advice I usually give newbies wanting to go into affiliate marketing is to pick a specific niche and run with that instead of trying to create a whole mall.  But that was before Connie Berg, CEO and Head Bird of FlamingoWorld.com teamed up with the Schaaf Brothers to create For Me To Coupon (get the Saturday Night Live play on words?)
ForMeToCoupon.com offers an automated, customized affiliate coupon feed that consolidates thousands of deals from merchants across all the major (and minor) networks.  I tested it out, and it's awesome.  I just plugged in my affiliate id's, and I was set with all kinds of deals, including coupons, rebates, deals of the day, etc.  So if you are considering setting up a coupon or deal site, I highly recommend ForMeToCoupon.com for your content.  Plus they are currently offering a free trial account so you can test it out yourself.
*OT – Check out Haiko's LinkSteal.com – Is Linkshare a parasite now?  He used my site as one of his examples of OneCause.com ripping off MY commissions.  Not cool.