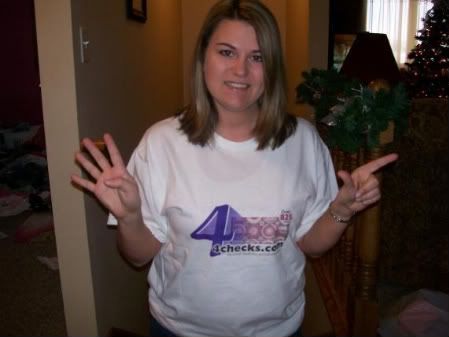 Kim Rodgers, affiliate manager for 4Checks.com, sent me today's featured tshirt.  A good affiliate manager is what makes for an excellent program, and Kim excels at her job. And she has a great name, as well.
4Checks.com offers over 800 check designs at low prices.  You know those ads you see in the newpaper's Sunday supplements offering 49¢ for your second box of checks?  Well, this is the same company!  And it's easier to order online (and faster) than mailing in your order.  Here's their current deals (and I'm a customer as well)…
Artistic Checks – Pay only 49¢ for Second Box
Image Checks – 2nd Box 49¢
The Check Gallery – 2nd Box for 49¢
Classic Checks – Distinctive Designs that Benefit Important Causes
Styles Checks – 49¢ for 2nd Box
Life Checks – 95¢ for 2nd Box
Identity Check Printers – Special Offer!
Message Products – Exclusive Designs Benefit Animal, Environmental & Social Causes
Check Crafters – Save up 50% off Bank Costs
Their affiliate program was originally just housed at Kolimbo, but have expanded to Shareasale now as well.  I've noticed that since swapping some links from Kolimbo to Shareasale, that my conversions have increased.  Guess it's time to swap all of them.  All I really need for Christmas is more time…
P.S.  Notice the "Photrade" ad on my pic? Yep, right above the entrance to my daughter's messy room.  It's a new concept that pays you to share photos. It's still in beta so you have to be "invited" to join.  I have a few invites left, so contact me if you'd like one. My photographer (aka Messy Room girl), didn't get my hand gestures – I thought it was creative for "4 Checks".