Once a week, Del and I have "date night".  He was less than impressed when I asked him to do a quick photo shoot before we went out this week. He perked up when I told I had a chance to win $1000 from Affiliate.com in their T-shirt Blogging Contest and that I'd share if we won!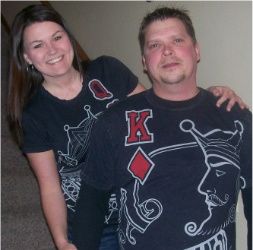 Affiliate.com – a huge CPA network – gave out these cool King and Queen tees at Affiliate Summit last month.   My original intention was to pose like a fanned hand of cards, but as you can see, I'm no choreographer.
Yes, I know Affiliate.com has already made the Free Shirt Friday list, and I bumped this post up for a chance to win a grand – do you blame me?  I apologize to the other shirts in waiting for being selfish.  If it makes you feel any better, Affiliate.com is also donating $1000 to the American Red Cross Haiti Relief Fund as well.
And as a bribe to the celebrity judges – Missy Ward, John Chow, Zac Johnson, and Murray Newlands – drinks on me at #ASE10 with the winnings?! 🙂
*Update – seems I missed the entry deadline to enter the contest – it was 2/22/10 (for some unknown not-blonde reason, I thought it was 2/28). So even though I wasn't qualified to win, the prize went to the most deserving Heather in BC!