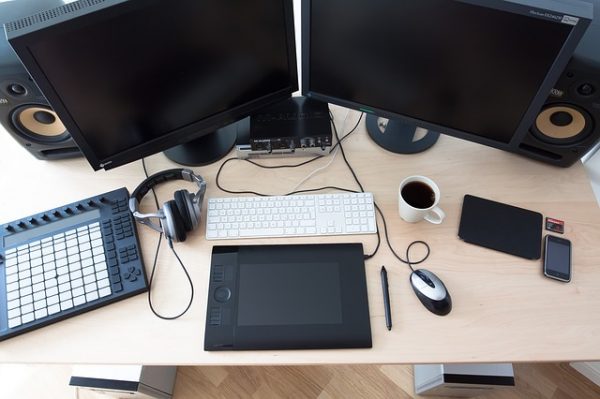 According to a McCrindle Research report on the advantages and disadvantages of working from home, flexibility in office hours and creating better work-life balance are its main benefits. The disadvantages include the access and the cost of necessary resources, as well as the lack of self-motivation and the perception that work from home is not actually work. Fortunately, there is a variety of office-friendly items that can eliminate these drawbacks and make working from home a great and productive experience.
Productivity Software
There are numerous pieces of software that might significantly improve your productivity. Microsoft Office ($179 for the home edition) and Office 365, its cloud-based option ($119 for the home version) are a substantial investment, but also a must-have for business purposes. Additionally, LibreOffice is the most popular feature of the OpenOffice.org project. This productivity suite is available for Windows, OS X and Linux and has more frequent updates than OpenOffice. It includes the apps for word processing, spreadsheets, presentations, diagrams, vector graphics, mathematical formulae and databases. Finally, Google Apps for Work, especially Google Docs, should be on the top of your list for collaboration projects. This cloud-based word processor offers numerous excellent options, such as change tracking.
Voice-over Internet Protocol (VoIP)
VoIP can significantly lower the telecommunication costs. It is less expensive than regular phone companies. In addition, the networks for your phone and data no longer have to be separated. VoIP can travel with you, whether you are at an internet café or at a hotel room. Some services have an option of the automatic forward of your voice mail and fax to your e-mail inbox. Another advantage is that you can get a virtual phone number with any available air code. In case of power outage, configure the VoIP service to forward unanswered calls to the mobile, or a landline phone. For the VoIP service, all you need is a fast and stable internet connection, so just compare broadband bundles for best deals.
Hard drives
As far as desktop hard drives are concerned, the Seagate's 5TB Backup Plus Desktop Drive is currently one of the best options on the market. According to the Wirecutter, it has average read and write speeds of 174 MB/s and 168 MB/s. It is also less expensive per gigabyte than its competitors. Seagate should be your choice for portable hard drives, too. The 2TB Seagate Backup Plus Slim is thin and light, weighing around 160 g. The Wirecutter reported that it is fast with average read and write speeds of 87.2 MB/s and 85.7 MB/s. Seagate also offers backup software, as well as 200 GB of OneDrive storage for free for two years.
Finance apps
With a cloud-based interface, Quickbooks allow you to sync bank and credit card transactions with the app, sync data from the apps, such as PayPal and Square, record tax expenses, send invoices, create business reports, pay bills and pay your employees. Based on your business type, you can choose app features you need. A team behind FreshBooks pride themselves on being described as "incredibly user friendly" by Forbes. The app offers more-or-less the same features as Quickbooks. You may also need TurboTax, a tax filling app. Put simply, you take a photo of your W-2 and the data is placed in the right tax form.
Printers and scanners
Multifunctional printers are the printers of the future. The HP OfficeJet Pro 8620 Wireless All-in-One Inkjet Printer can be used as a printer, scanner and copier. According to The Wirecutter, it can turn up to 500 pages each month. It is affordable at 7.3 cents/colour page and 1.6 cents/black-and-white page. The Fujitsu ScanSnap S1300i is a portable scanner, which can load up to 20 pages and scan them. It can be powered by a USB stick, making it an excellent option for business trips.
Your productivity depends on your workspace. With right tools, you can finish any job, no matter how difficult it can be. These apps, software and hardware can certainly make your office more efficient place for work.
Please follow and like us: