Disclosure: This post may contain affiliate links, meaning we get a commission if you decide to make a purchase through our links, at no cost to you. Please read our disclosure for more info.
Last Updated on January 24, 2020 by Work In My Pajamas
More than 3.7 million, or nearly 3 percent of the American workforce, works from home at least half the time, Fundera reports. Some choose to work from laptops on their kitchen counters; others have home offices equipped with everything you'd find in a traditional office space.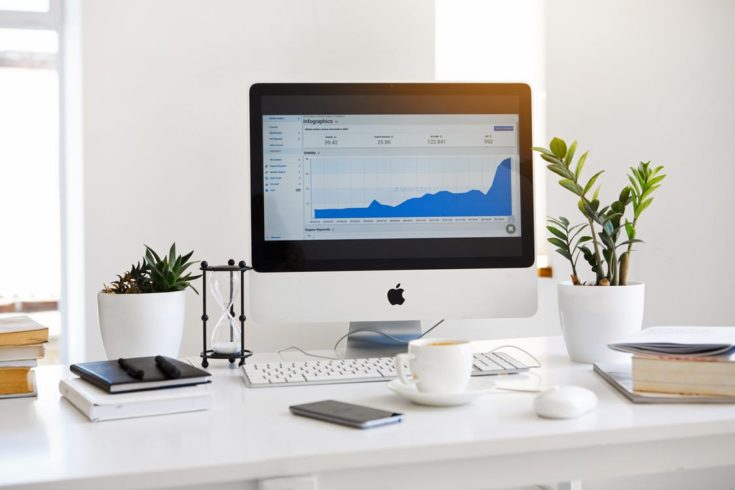 Whether you fall in the first group or the second, some home office tech can help you boost productivity, improve your workflow and keep you comfortable. Keep reading to learn about a few tech items you should invest in in 2020.
A Smart Home Hub
Smart home hubs like Alexa or Google Home have become popular staples in every room in our homes, but while having one around when you're trying to work might sound like a distraction, they can actually be a valuable tool for your home office.
With your smart home hub, you can quickly get answers to your questions while you're doing research. When writer's block strikes or your creativity and focus ebb, you can play some music to get things flowing again. If you sync your device to your calendar, you can also set reminders and alarms for yourself. For those who tend to get too entranced by their work, this can be a useful tool to keep you from missing appointments or spending longer at your desk than you meant to.
Remote Monitoring
A smart home hub allows you to connect various devices within your home, giving you the ability to turn on your porch light from inside or turn on your oven from your laundry room. But what about using and monitoring your devices remotely?
New technology makes it possible to tune into your home from anywhere. Whether you're down the street grocery shopping or on the other side of the world enjoy a vacation, you can do everything from turning off the lights in your home to lowering the thermostat. One of the best features of this technology is remote viewing of your security system. With a tablet or smartphone, you can check in on your security cameras to see what's happening in and around your home. Not only does this allow you to stay on top of your home's security, but it can also be used to make sure that older children get inside on their own okay or to see whether your pets are safe inside while you're away.
Standing Desks
While it may not technically be tech, standing desks are a must-have for anyone who spends long hours at their desks every day. Adding a standing desk to your home office will help you stay in shape, boost productivity, lower your blood sugar, reduce your risk of heart disease and more. It's a simple change that can have a big impact on your work and your life.
Video Monitor for Your Security System
Whether you only work part-time from home or spend an entire eight-hour workday in your home office, odds are that you're still spending a lot of time in there. While you're locked away and focused on your work, your kids might be playing in the living room, packages are getting delivered to your front porch and your dog is running around in your backyard. Unless you want to continuously have to get up to check on everything or else risk missing something happening, you need a little tech in your office that lets you stay in tune with what's going on elsewhere in your home.
A video monitor connected to your home security camera system via an HDMI cable lets you check on your backyard, living room, driveway or front porch whenever you want, without getting up or interrupting your workflow. This isn't just ideal for those with families at home or during the day when you might be getting deliveries. If you live alone and work late at night, having access to your security camera system can be a great way to set your mind at ease.
Ergonomic Mouse and Keyboard
Anyone who has spent years working at a computer knows just how painful carpal tunnel is. Luckily, there's some office tech out there seeking to reduce your risk of this painful condition. An ergonomic keyboard, mouse and wrist rest can keep your hands and arms positioned properly while you work.
Upgrading Your Home Office
If you work from home all or even just part of the time, you know how important having a comfortable and efficient space to work is. With this home tech, you can boost your productivity, keep an eye on your home without interrupting your workflow, prevent carpal tunnel and stay healthy while you work.