Disclosure: This post may contain affiliate links, meaning we get a commission if you decide to make a purchase through our links, at no cost to you. Please read our disclosure for more info.
Last Updated on March 10, 2020 by Work In My Pajamas
Staying at home is a necessity for a lot of moms. That doesn't mean that you can't make a significant income, though.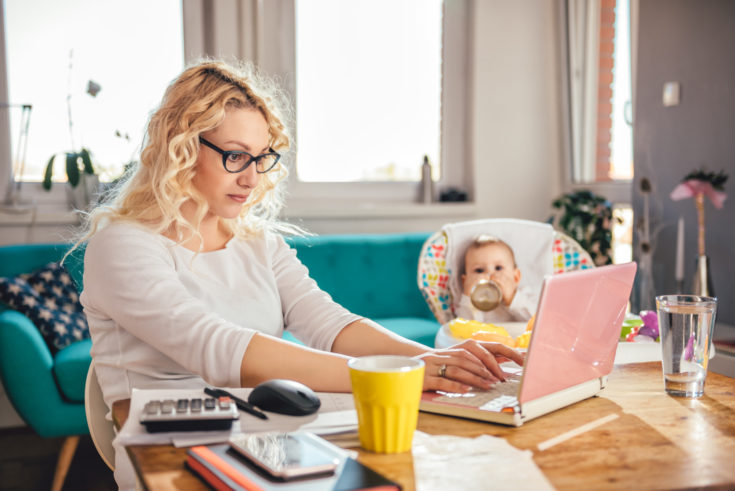 There are a lot of business ideas for stay at home moms that will generate a significant income without requiring you to leave the home. Even if you're just tired of working your regular 9 to 5 job and want to try something new, there are options for you.
We're going to explore that idea in this article, giving you some insight into potential ways you can make money from your pajamas. Let's get started:
Exciting Business Ideas for Stay at Home Moms
These ideas can work for almost anyone. Hopefully, one or two of these options start to stir your business brainstorm and send you on your way toward a solid income.
1. Freelance Writing/Blogging
Everyone has something that they're an expert in. At the very least, there's something you're interested in that you can describe with a flair of personality.
Blogging is an excellent way to generate income while exploring parts of yourself. There are a lot of ways to generate income through your blog as well.
Freelance writing is another option. If you have any previous experience or training in writing, it can't hurt to try your hand at freelancing. If you don't have the experience but you think you could get the job done, there are a number of websites looking for writers with no experience required.
2. Dropshipping or Selling on Amazon
Dropshipping is a business process wherein you create a storefront on Amazon and attract clients, then sell your product without ever coming into contact with it. That's right.
Amazon or another company will manage and ship your product and all you have to do is piece together an attractive, well-optimized Amazon storefront.
3. Get Crafty
If you have a skill, craft, art form, or desire to learn any of those things, you can create and market the products you make online.
Whether you take the Etsy route or start generating a solid following on social media, there are outlets for you to make a significant product with your art.
4. Virtual Assistant
A virtual assistant is someone who completes the duties of a call center plus a little extra. You take calls, schedule appointments, leave notes, and manage the phones when a company cannot.
This is a great job because it allows you to create your own hours, get on a personal level with the companies you work for, and work from home.
5. Consulting
If the ins and outs of professional life left you with a marketable business skill, you can certainly use that skill from home.
Freelancing out your professional insight through consulting is an excellent way to make a reliable income. You'd be surprised by how much you're worth.
6. Teach English
The demand for native English speakers to teach learners of different languages is huge.
At most, you'll need a TEFL certificate but those are easy to obtain. Most of the time, though, you don't need any qualifications to land a job teaching English to students all around the world.
7. Day Trading
If you're a person who has a little bit of cash that you're willing to play around with, why not try day trading? If you do your research and spend a significant amount of time learning, you could make a significant amount of money playing the stocks.
Having a lot of time allows you to keep a close eye on how you're doing and sell at a moment's notice.
Need Some More Business Ideas?
Whether you're in need of more business ideas for stay at home moms or you're having trouble planning for your next family trip, we're here to help.
Being a mom is tough. Sometimes it's nice to get a few tips and tricks when you're in need.
Explore our site for all of the information you need to be the best you can be!