Disclosure: This post may contain affiliate links, meaning we get a commission if you decide to make a purchase through our links, at no cost to you. Please read our disclosure for more info.
Last Updated on November 20, 2019 by Work In My Pajamas
A professional company name, a strong company ethos, an interesting and insightful description about your business history and a list of services. You might have the fundamentals of a good website, but does it look professional enough?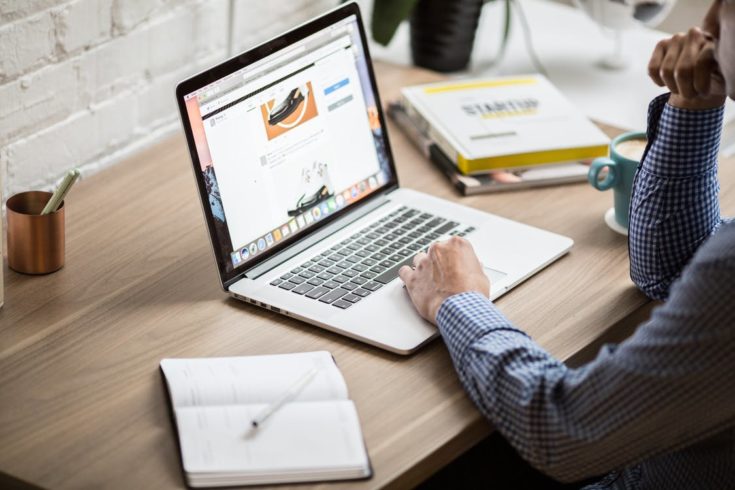 Studies have shown that website visitors take around 5 seconds to decide whether or not to stay on the site they've landed on or move onto somewhere else. Which is why it is utterly imperative that your website is professional and reflects your company's image, perfectly. Read on for 5 design tips for a professional looking website.
Keep it error free
When you visit a website or read an article that is littered with spelling mistakes and grammatical errors, it really tarnishes your view of the writer or company and it also ruins the enjoyment of the website/article itself. So, in order to keep your website looking professional you need to ensure it is error free. Try investing in some proofreading software (check out this official definition of proofreading here) to make the process a little easier. It also takes away a lot of the pressure and stress of checking numerous web pages! 
Keep your homepage minimalistic 
Consider your own habits as a consumer. We don't usually read all the content on the homepage. We usually opt for specific pages that detail what it is we're looking for. With that in mind, consider the fact that we usually scan for keywords, attractive images and confirmation that this company has what we need. Break up your homepage with sub headings, and plenty of calls to action, and don't forget social media icons to make it easier for potential clients to get in touch.
A website that is user friendly is not only professional, but it also means that your potential clients are more likely to continue to browse your website. Make sure that visitors can easily find what they're looking for – avoid sending them on a long winding journey throughout your website, they'll only get frustrated and leave. A website with good navigation also allows search engines to index your content better and therefore improve your SEO. 
Make it mobile friendly
Smart phones and smart devices are a part of everyday life. So, you need to ensure that your website is mobile friendly and is viewable on other devices. Mobile-friendly versions of you site, will make your website much more accessible to potential clients. Just make sure that you check every button, and every link throughout your site to ensure its working at full capacity. 
Add video
In the online world, video is king. Which means that clients are much more likely to engage with your website if there is video content on there for them to browse and enjoy. This could be a video highlighting the services that you provide, or a standard working day at the office, introductions to the staff and the company owners – it could be anything! There's no doubt that video is highly engaging, so adding some into your website will make it look professional and attractive.