Disclosure: This post may contain affiliate links, meaning we get a commission if you decide to make a purchase through our links, at no cost to you. Please read our disclosure for more info.
Last Updated on April 29, 2023 by Work In My Pajamas
Starting tomorrow, March 1st, the Amazon Associates Affiliate Program is changing up it's commission structure. The current (old, as of 3/1/17) works on a "sell more, get more" fee rate schedule, so the more products that you sell, the higher commission rate you earn on all products.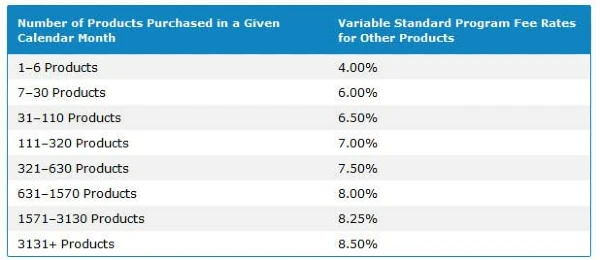 The new Amazon commission rates pay out different percentages for different product categories.
Many bloggers are freaking out about this change, but quite honestly, I don't think it will hinder me. In fact, it may help me make more money.
See, I never started promoting Amazon much until I joined Pajama Affiliates and read how Lesley Stevens shared how she made over $52,000 in December 2015 (and then $78,000 in December 2016) alone from Amazon! Lesley is the real deal. I'm her Facebook friend, and she's legit.
I disliked how Amazon only has a 24-hour cookie, and other affiliate programs pay out more without having to hit a quota of number of products sold. But then a light bulb went off that, even after factoring in those items, everyone shops at Amazon anyway. So I might as well start throwing my links out there, as if they don't buy what I'm promoting, chances are they might buy something else. Amazon knows how to close a sale once you get the users there!
Read how Lesley Stevens made $130,000 in Q4 last year on the Pajama Affiliates blog!
People like Lesley Stevens unfortunately will be impacted by Amazon's commission changes as her main site is about toys (I love that she is so transparent). She was probably earning 8.50% on all sales referred, and now those will drop to 3%.
Me, on the other hand, was lucky if I could make 7% on all sales referred in a month. But my main sales are shoes, which now will automatically be paid out 7%. If I focus more on the higher commission products (i.e. luxury beauty products pay out 10%), this fee structure may be even better for me.
I also downloaded Kurt Chrisler's new Azon Profit Engine WordPress plug-in that lets you make Amazon affiliate websites super easy, so I can work on promoting more shoes and higher paying out products.
Build a passive income generating Amazon affiliate website in under 60 seconds!
Does Amazon changing commission rates hinder or help you?