Disclosure: This post may contain affiliate links, meaning we get a commission if you decide to make a purchase through our links, at no cost to you. Please read our disclosure for more info.
Last Updated on June 23, 2022 by Work In My Pajamas
Almost 40% of working-class individuals need to leave the house to go to work. However, with the current technological upgrades, some people work effortlessly and even more productively at the comfort of their homes. Whichever category you fall into, you have probably already picked a room in the house where you can lock yourself and delve into your work.
However, even with the easy access to your rooms, working at home can be quite challenging especially when you do not have an appropriate working environment. That is why this guide will help you learn some simple steps on how to design your home office to suit your work needs.
Make Your Spare Room Stylish Yet Productively Convenient with These Simple Home Office Design Tips
Many are the times when efficiently decorating a home office is often overlooked. Most people reserve the cramped corners of their bedroom or even the overly sterile spare room as their office space.
What we all tend to ignore is that working in a dead space more than often negatively impacts our productivity. Lucky for you, with these simple, nifty home office design tips, you can create a workspace that inspires you for days on end.
1. Choose the Right Room
You need to keep in mind that to be productive you need to be comfortable. Therefore, you need adequate space to fit your furniture comfortable. Additionally, consider things like the ventilation and foot traffic in that section of the house.
2. Look At the Lighting
We generally assume that we need bright lights to work well. However, if you work on your computer a lot, you will notice that glaring lights will irritate your eyes. The ideal light will be bright enough but soft. You also have to make sure that your screen does not reflect light. When dealing with artificial lighting, get overhead fixtures or an adjustable a desk lamp, but if you work during the day, make use of natural light.
3. Air Quality
Having a home office might mean that you spend between five and seven hours in that room. Sometimes, however, even when you thoroughly clean the surfaces and vacuum the area indoor pollutants are still left floating in the air. If you are looking to buy a vacuum but not sure which one is good.
Opening your windows and letting the room air might improve the air quality, but if you have a sensitive respiratory system, you might want to invest in a quality HEPA air purifier.
4. Proper Furniture
Whether you work seated or standing, you need to have the right furniture. These are chairs and tables that do not force you to slouch or bend to see your computer or paperwork. When buying furniture, it is always best to choose items that are adjustable. Additionally, although we buy most things online these days, you should make an exception when to come to furniture. Go to the store and sit in the chair, while you are there try to choose the ones with a warranty.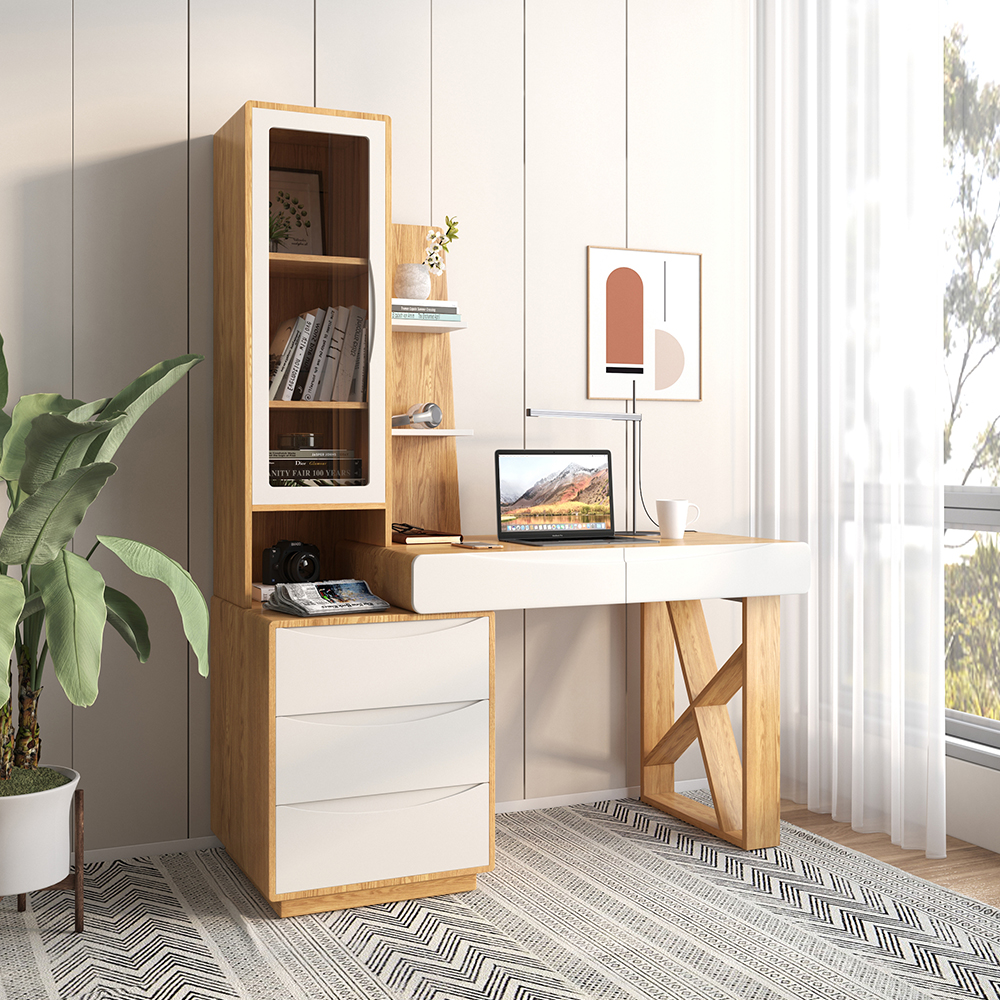 5. Flexible Layout
Change is good and regularly changing the design of your office is one way to personalize your workspace. With this in mind then it is advisable to avoid getting any bolted down fixtures. This way if you want to rearrange the furniture, remove or add anything it is possible and easy.
6. Personalize Your Workspace
A photo of your dog or your favorite painting can make a room feel homier, which will, in turn, make you feel more comfortable working there. However, know when to draw the line to ensure this space remains professional.
7. Organize Your Things
Most people who work from home do not meet their clients there- this sometimes makes one lazy especially when it comes to organizing. A clean and clutter-free work environment is vital if you want to be productive. Therefore, set aside a few minutes every day to rearrange paperwork and shelve your items.
8. Control Your Cords and Wires
Most people have different charges and cables connecting their gadgets. When you leave these cords lying all over you can easily trip and fall, bringing down the machines with you. To avoid this consider using a box, plastic or metal cup to direct all these wires in one direction and preferably out of sight.
9. Borrow Ideas
You may be stuck in a designing rut and not sure what you should put in your home office. That is when you should borrow ideas. Go to showrooms, flip through magazines and spend some time online. After doing this, you can easily lift and combine different concepts to design what works for you.
10. Work with An Expert
Sometimes you may need to make structural adjustments to the rooms you have chosen, and unless you are handy and have time on your hands, you will need a contractor. Make sure that the person is safe and this means wearing all their safety gear, especially work boots, when doing the job.