Disclosure: This post may contain affiliate links, meaning we get a commission if you decide to make a purchase through our links, at no cost to you. Please read our disclosure for more info.
Last Updated on February 23, 2018 by Work In My Pajamas
Eric Nagel did it.  Joe Sousa did it.  Did what you ask? Recap their Affiliate Summit East experience in New York City last week. So I thought I'd put together a post of my own of a few highlights as well.
Saturday
Didn't get into NYC until evening, but when you stay up until 4 a.m. in the morning, you can still pack in a lot of fun!  First stop was the Buy.at party atop the Empire Hotel followed by pizza, pubs and private parties.
Sunday
Luckily I got to sleep in for a bit to heal my self-induced headache. I bounced back in time to hit the first session: Getting Noticed FAST Session. The panelists (Lisa Picarille, Michael Buechele, Trisha Lyn Fawver, Jen Goode and Stephanie Lichtenstein) did a great job, even if they did use some embarrassing pictures of me in their slideshow.
The afternoon was spent carousing the Meet Market. I was happy to volunteer my time at the Affiliate Marketers Give Back booth to raise money for breast cancer awareness.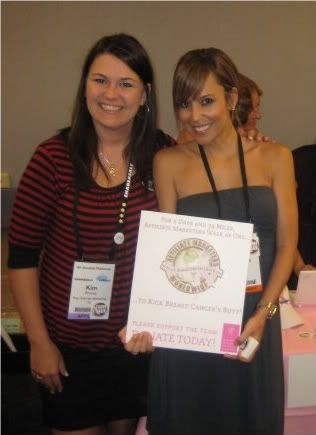 Next up was the Market Leverage Yacht Party which ran us late getting to the ShareASale "Under the Stars" Party.  Brian Littleton always plans the perfect parties! I actually hit the bed early at 1:30 a.m. knowing I needed some beauty sleep.
Monday
I enjoyed the keynote with Chris Brogan and Julien Smith. I wish I would have brought along my copy of their new book Trust Agents: Using the Web to Build Influence, Improve Reputation, and Earn Trust to have it autographed.
My favorite session (as in most notes taken and I'm smitten by the guy) was with Wil Reynolds. He was kind enough to type up his presentation with links for us all: SEO Tools You Can Use Today.
There were so many parties scheduled Monday night that I couldn't possibly hit them all. But I couldn't miss MarketLeverage's Pizza Party as pizza is my absolute favorite food!  I also made appearances at Linkshare's Unofficial Affiliate Summit East After Party at Johnny Utah's (I did not ride the mechanical bull this time), the Drop.io Party at the SoHo House, and the GTO Management Bowling Party.
Tuesday
I was anxious to see the keynote with Peter Shankman as I've always been a fan of his HARO – Help A Reporter Out newsletter.  He proved to be just as motivational live in person.
I skipped the afternoon sessions to take a subway to Canal Street in Chinatown. I considered this "work" as well since my main sites are shopping related! 🙂
I missed going to the Yankees game (thanks for the invite Jason Rubacky) in the new stadium as I had to fly out Tuesday night.
I got to meet a lot of internet celebrities that I had never personally met (ie Gary Vaynerchuck and Ted Murphy) that I plan to blog about individually in upcoming posts.  I also met several non-internet celebrities that you can read about here.
Thanks to Shawn Collins and Missy Ward for putting on yet another phenomenal Affiliate Summit! Can't wait for #asw10 in Vegas!